Azalea Harper
May 17, 2011 - January 3, 2015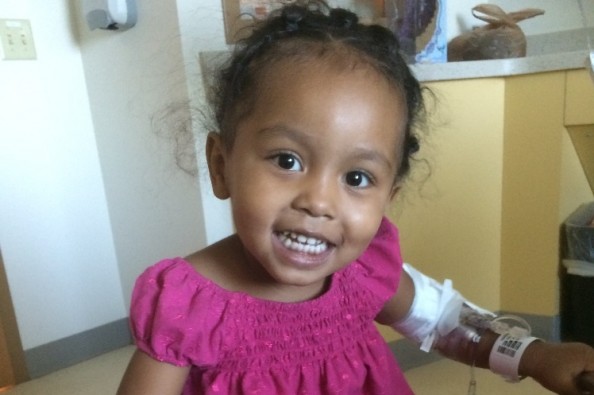 Azalea was born on May 17, 2011 to Delilah and Dee. Those who knew her gave her the nickname "Azzy." On Azalea's third birthday, in 2014, she had a birthday party filled with a lot of fun. The next day her family noticed that she was limping. They were not that concerned and thought she might have just hurt herself a bit and that she would be back to normal soon.
The next day, Azalea was still limping. Her family prepared to take her to the doctor. When they told her to put her shirt on, they noticed that she had trouble lifting her right arm to do so. Her father began to worry a bit more but he thought that it was likely that she had fallen and hurt herself during the excitement of her birthday party two days before.
A few hours after this, Azalea and her mother, Delilah, went to the hospital. Six hours later Delilah called Azalea's father and told him that he needed to come to the hospital because Azalea was having an MRI. He went to the hospital and talked to a few doctors. The family waited in the waiting room for the results of the MRI. When they were finished, four doctors came into the room to talk to Azalea's parents.

One doctor told them that he was sorry and that he had hoped Azalea had a stroke, but they had discovered that something much more serious was happening. There was a tumor in Azalea's brain stem that was the size of a golf ball. It was a form of cancer called diffuse intrinsic pontine glioma, often referred to as DIPG.

There is no cure for DIPG and it cannot be surgically removed due to its location in the brain. While there are treatments for DIPG, they only help reduce symptoms for a short period of time, allowing the child to have a few months where they can have what is considered a "normal life" before the cancer comes back stronger than ever and ultimately takes the child's life. No child has survived DIPG long-term.
Azalea's father asked how long Azalea had to live. Doctors weren't sure, but because Azalea's tumor was so large, they guessed that she only had six to eight weeks left. They were told they could treat Azalea with radiation and chemotherapy to attempt to prolong her life. Friends suggested the family look into cannabis oil. They got their medical marijuana license and were able to treat Azalea with the oil. In addition, she went through six weeks of radiation.
During treatments, Azalea was feeling quite ill. She stopped eating, talking, and walking. The cannabis oil helped her walk and talk again. When Azalea got another MRI, the tumor had shrunk by 67%. Azalea got a bit better. The third MRI, unfortunately, showed that the tumor had not shrunk at all, but the good news was that it had not grown larger either.
After her last radiation treatment, doctors were impressed that Azalea was doing so well. She was up singing and dancing. Her family created a GoFundMe page to be able to continue buying her the expensive cannabis oil. People donated, but when they saw Azalea feeling well enough to play, they began to stop donating. They assumed she was getting better, even though she needed the expensive treatments to stay feeling better.
In late December, Azalea began feeling very sick and weak again. On December 20, she had her fourth MRI. This time, the tumor was as big as it was during her first MRI. Her family was told that she did not have much longer to live and hospice was called. She was able to spend Christmas with her family and open some of her presents.
On December 28, Azalea began breathing oddly. The doctor told her family that she probably only had about a day left to live. They notified everyone in their family so they could come say goodbye. On January 2, Azalea's breathing was even worse. Her family called the hospice doctor who informed them that Azalea was in the process of dying and that she only had an hour or two left. Friends and family were called to say goodbye.
The hospice doctor gave Azalea's family more medications to be sure that she was not in pain during the process. Around sixty friends and family members came to be with Azalea. Azalea's mother was holding her and her father was beside her as she took her last breath on January 3.